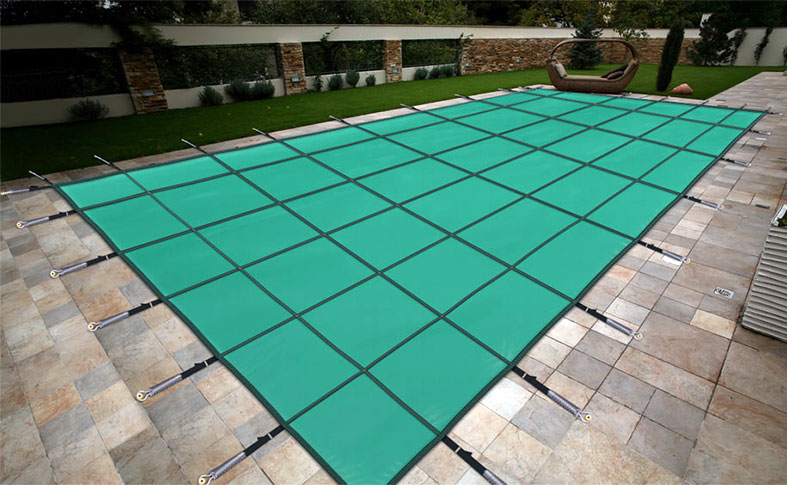 A Solid Safety Cover is an inground winter cover made from a solid vinyl material, that's specially designed to be pulled tight across the pool and secured with straps to Safety Cover anchors that are installed around the pool's perimeter. A Solid Safety Cover differs from a traditional "tarp style" solid winter cover because in addition to keeping out leaves, dirt & debris, a Solid Safety Cover also prevents accidental submersion & drowning. In the unlikely event that anyone (or anything – like a pet or area wildlife) ventures out onto the Safety Cover while it's on the pool, they will be fully supported by the Safety Cover. To protect your family, neighbors, pets & wildlife, you simply cannot beat the protection of a Safety Cover.
For proper installation, every Safety Cover requires approximately 36″ of concrete decking, wood, pavers or other suitable rock around the perimeter of the pool – so there is a solid surface for the anchors to be set within.
The main advantage of a Solid Safety Cover is that the material will prevent even the finest particles from entering the pool, which keeps your pool water debris-free over the winter. A Solid Safety Cover also prevents sunlight from penetrating through the cover material, which prevents the growth of algae while the pool is covered. With a Solid Safety Cover, rainwater and snowmelt are kept off the Cover through the use of a drain panel (a mesh panel(s) that's built into some Solid Safety Covers) or a Pool Cover Pump.
We're Solid Safety Cover Experts! We carry a wide selection of Safety Covers, in a variety of the most popular styles and sizes.