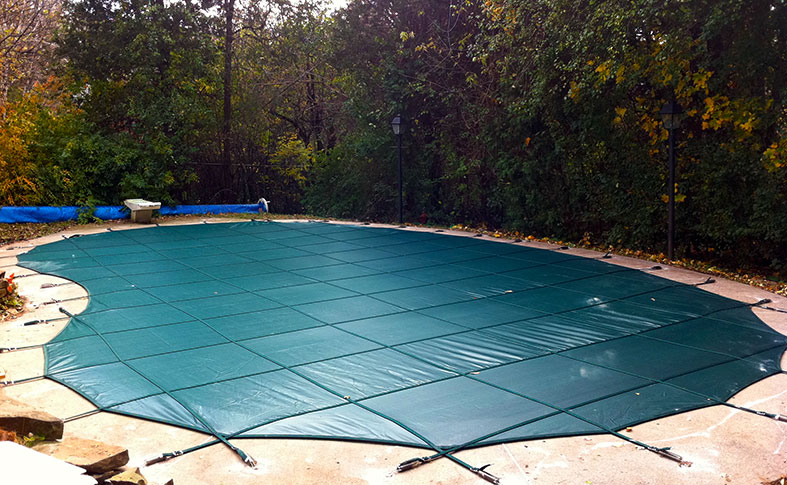 A Mesh Safety Cover is a winter cover in a tightly-woven mesh material that's designed to be stretched across the pool, and secured with straps to anchors installed around the pool's perimeter. In order to be installed as a Safety Cover, your pool must have approximately 36″ or concrete decking, wood, pavers or other suitable rock around the perimeter – so there is a solid surface to set the anchors in.
A Safety Cover is different than a traditional "tarp style" winter cover because in addition to protecting the pool from dirt & debris, a Safety Cover also prevents accidental submersion & drowning should a person or pet venture onto the Safety Cover while it's on the pool.
A Mesh Safety Cover features material that is generally lighter and easier to handle than solid Safety Cover material, so you will have an easier time putting your new Safety Cover on and taking it off your pool. Mesh Safety Cover material will keep out larger debris & dirty, but still allows rainwater and snow melt to seep into the pool, saving on resources and eliminating the need for a cover pump to drain standing water before the Safety Cover is removed.
Made from UV resistant Polypropylene mesh that meets and exceeds all ASTM standards.
Keeps pool clean & protected from accidental intrusion.
Includes all necessary hardware.
10 Plus years Warranty.
Available in Black, Blue, Green & Taupe.
We're Mesh Safety Cover Experts! We carry a wide selection of Safety Covers, in a variety of the most popular styles and sizes.
Since we're a preferred partner with some of the finest Mesh Safety Cover manufacturers in the industry, we can get you the best possible price on a new mesh Safety Cover. We offer expert advice, before & after the sale – for installation questions & technical advice.
Don't see what you need online? Give our Safety Cover Experts a call at 1-647 998 3132 and we can help you with a custom made Mesh Safety Cover in any size & shape, to fit your pool perfectly.
Standard Rectangle safety cover with 5'x5′ Strap Grid
1′ overlap around the perimeter
Storage bag
All Essential hardware
Star Plus Series
From $789.00
Standard Rectangle safety cover with 3'x'3 Strap Grid
1.5′ overlap around the perimeter
Storage bag
All Essential hardware
Custom Shape/Size
Get Quote
In order to get a quote on Custom Safety Pool Covers, please click the button below